January 8, 2002
(For Your Information)
Mazda Showcases 'Mazda6' Sedan at North American International Auto Show
- Powered by newly-developed V6 3.0-liter engine with 5-speed automatic transmission -
DETROIT, Jan. 8, 2002 -- Mazda Motor Corporation today unveiled the all-new Mazda6 sedan at the North American International Auto Show,* a vehicle that will set a new global benchmark in the midsize segment for driving performance, package, styling and quality. The 5-door model of the Mazda6 received overwhelming praise when it was unveiled at the 35th Tokyo Motor Show.


The Mazda6 on display in Detroit is powered by the all-new higher performance aluminum V6 3.0-liter gasoline engine, exclusive for the North American market. An all-new 5-speed automatic transmission is available for this engine.

Mazda6 will go into production at Auto Alliance International (AAI), in Flat Rock, Michigan, this fall. The Mazda6 will go on sale at Mazda dealerships in North America from early 2003.


*
North American International Auto Show (NAIAS):
Press days: January 6-9, 2002
Public days: January 10-20, 2002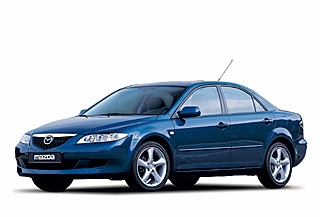 Mazda showcases North America-specification "Mazda6" at 2002 NAIAS
(Photo shows Europe-equivalent model.)
Product Outline of Mazda6
1. Distinctive and attractive styling
-
Mazda6's body style has an athletic stance, the result of an upper body resting on a wider lower body with good volume around the wheels. It is a design unique to Mazda, clearly communicating Mazda's jump forward in vehicle dynamics, performance and packaging
-
Fresh, spacious and innovative interior design
2. Exceptional functionality
-
All-new platform and newly designed front & rear suspension
High-mounted double-wishbone front suspension and Mazda-patented E-type multi-link rear suspension
-
New I4 2.3-liter DOHC S-VT (Sequential Valve Timing) engine
-
Higher performance aluminum V6 3.0-liter gasoline engine
With S-VT, multiple measures to reduce friction, and a lightweight, high-rigidity aluminum block, this powerplant achieves high performance and excellent fuel economy combined with a smooth, silky feeling of power and quality The engine offers a maximum estimated output of 218 HP, with torque peaking at an estimated192 foot-pounds. Although the engine offers higher output, it also meets the ULEV (Ultra Low Emission Vehicle) standard for the US. The V6 3.0-liter engine has a newly developed 5-speed automatic transmission with an electronically controlled system to optimize torque output, and smooth shift change
3. Innovative packaging
-
With class-topping seating comfort and steering adjustment, Mazda6 offers a range of driving positions to satisfy any driver, regardless of their size, and their driving preferences. It is equipped with telescopic steering (unique for this class), and seats & switches based on ergonomic engineering
-
The spacious luggage area enables multipurpose use, and includes a unique rear seat mechanism that folds flat with a single touch of the release button
-
Double-link hinges protect luggage inside the trunk
4. Craftsmanship
-
Mazda6 raises the bar of craftsmanship with meticulous attention to such product details as operational feel and sound, the pleasing touch of the switches and narrow gaps between individual parts
-
Clever mounting accuracy, with a superior fit and finish
5. Safety and environmental care
-
The new car was engineered to achieve high ratings in crash-safety testing programs in the US, through the adoption of the latest dual-stage front air bags, newly developed curtain air bags, and the "triple-H" rigid body structure to manage collision energy
-
Low fuel consumption and clean emissions are achieved through the latest powertrains
Major Specifications of Mazda6
Dimensions
Overall length
4,745mm
Overall width
1,780mm
Overall height
1,440mm
Wheelbase
2,675mm
Track (front/rear)
205/60 R16: 1,530mm/1,530mm
215/50 R17: 1,540mm/1,540mm
Seating capacity
5 persons
Engine
Type
Mazda New I4 2.3L, in-line 4-cylinder DOHC, S-VT engine
Mazda V6 3.0-liter, DOHC S-VT engine
Transmission
Type
5MT, 4EC-AT, 5EC-AT (V6 3.0-liter)
Suspension
Type (front/rear)
High-mounted double-wishbone/E-type multi-link
Brakes
Type (front/rear)
Ventilated disc/solid disc
Tires & wheels
Tires (front & rear)
205/60 R16, 215/50 R17
Wheels (front & rear)
16 x 6J, 17 x 7J