Mazda Successfully Develops Innovative Aldehyde Capture Material 100 Times More Effective Than Conventional Activated Charcoal
-World's first application to vehicle cabin air filters-
Mazda Motor Corporation has successfully developed a material that is highly effective, 100 times* greater than conventional activated charcoal in removing aldehydes. Mazda is the first manufacturer to use this material in vehicle cabin air filters that will offer a cleanest possible cabin air quality, and the company will apply it to the new model to be launched in April.
Mazda's new aldehyde capture material will provide various advantages. For example;
| | |
| --- | --- |
| 1. | This new material has much greater aldehydes capture capability and converts them into harmless byproducts by means of a chemical reaction. Virtually all aldehydes present are eliminated. |
| 2. | It will provide long-lasting effectiveness. |
| 3. | Because aldehydes are converted into stable and harmless byproducts, there is no possibility of aldehydes being released into the air when the temperature rises. |
Aldehydes are chemical compounds that, in gaseous form, are harmful to the human body and have a strong, irritating odor. They are said to cause "sick house syndrome" by triggering allergic reactions such as headaches and dizziness as well as other symptoms associated with chemical irritation. Sources of aldehydes include housing materials such as plywood and adhesives, as well as the combustion of certain organic compounds such as petroleum and various gases. Aldehydes are also contained in cigarette smoke and polluted air. In fact, for many years now, they have been a common cause of unpleasant odors found in the cabins of automobiles. According to Mazda's research, 70% of passengers feel discomfort at the smell of cigarette smoke and intake of polluted air in vehicle cabins.
Activated charcoal, which has long been used in filters, removes contaminants such as nitrogen oxides (NOx), hydrocarbons (HC) and aldehydes from the air through adsorption. However, charcoal is not an effective absorbent of aldehydes, and conventional air filter is only able to remove less quantity of the aldehydes present due to limited absorbable points. Furthermore, aldehydes that are adsorbed by activated charcoal are released into the air if the temperature rises.
Mazda's new cabin air filter for use in automobiles, incorporates the aldehyde capture material together with activated charcoal and dust filter layers to form a three-layer structure. The dust filter first eliminates particulates such as dust and pollen, then contaminants such as NOx and HC are removed through adsorption by the activated charcoal. Finally, the aldehyde capture material absorbs the aldehydes. This ensures that the atmosphere inside the vehicle remains clean, comfortable, and free of unpleasant odors.
The use of this new aldehyde capture material is not limited to cabin air filters in automobiles. Future applications are foreseen in a wide range of industries, including home appliances and housing construction.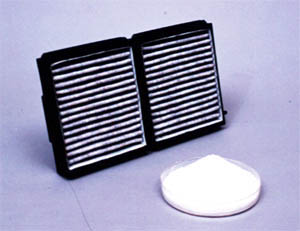 Aldehyde capture material development story
| | |
| --- | --- |
| * | Calculated the concentration of eliminated aldehyde and life span under equal conditions, using the same weight in materials (aldehyde capture material and activated charcoal) and same concentration of aldehyde. |